Krzysztof Zarebski
DADA DJ POWER PLAYFUL
with John King

One night only - Tuesday October 25, 2016 at 7:30 pm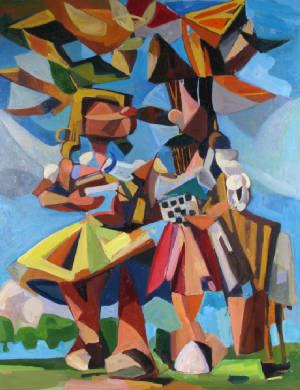 Facebook Event for Opening Reception
David Moriarty
THE GIRLS OF MT. HOLYOKE

May 11 to 31, 2016
Opening Reception Wednesday May 11, 6-9 pm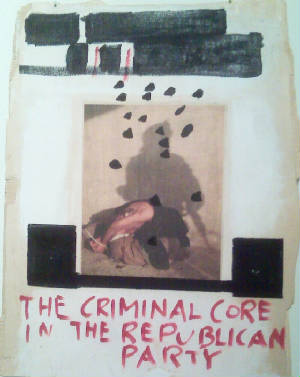 Sefan Eins
CRIMINAL CORE OF THE REPUBLICAN PARTY
Oct 28 to Nov 25, 2015 - Tue to Sat 12-6
Opening Reception Wednesday, Oct 28
6 to 9 PM


Mira Schor + Bradley Rubenstein
IMAGINARY ANATOMIES
May 20 to June 10, 2015
Opening Reception Wednesday, May 20
7 to 9 PM
MARY HRBACEK
Life Before Life
April 8 to 29, 2015
Opening Reception Wednesday, April 8
6 to 9 PM
Mr. K-Z, the DJ from Armand Ruhlman on Vimeo.
KRZYSZTOF ZAREBSKI - DJ Sexy Turntable - November 19

Video excerpts by Armand Ruhlman
ON THE ROAD @ The Quad
Photographs by Ellie Hinsey
October 11 to December 27, 2014
Opening Reception, Saturday Oct 11, 4 - 6 PM
PEGGY CYPHERS / PAM LONGOBARDI
Prairie Conversation / Threshold

October 15 to November 5, 2014
Opening Reception Wednesday, October 15
7 to 9 PM
VIDEO BY NIGHT

Curated by Jeanne Wilkinson
Jiwon Choi, Patrick Derivaz & Michael Lisnet, Matthew Laszewski, Sasha Sumner, Jeanne Wilkinson

One night screening - Artists' presentations at 7:30 PM

Wednesday, October 8, 2014
7 to 9 PM
FERAL OBJECTS
curated by Peggy Cyphers with Lucio Pozzi
April 16 to May 14, 2014

Opening Reception, Wednesday, April 16 6 to 9 pm
1. (esp. of an animal) in a wild state, esp. after escape from captivity or domestication.
synonyms: wild, untamed, untamable, undomesticated, untrained
Each artist is represented by one of their more feral works for this wild group show.
Alyssa E. Fanning, Christy Rupp, Debra Drexler, Emily Cheng, Ford Crull, Gary Stephan, George Quasha, Gwenn Thomas, Hans Breder, Isobel Davis, Jane Fire, Jill Levine, KK Kozik, Kylie Heidenheimer, Linda DiGusta, Linda Levit, Linda Schrank, Liz Ainslie, Lorenza Sannai, Lucio Pozzi, Marthe Keller, Nancy Grimes, Pam Longobardi, Peggy Cyphers, Raquel Rabinovich, Robert G. Edelman, Ruth Hardinger, Shawn Dulaney, Stephen Rosenthal, Steve Keister, Susan Smith, Susanna Tanger, Suzanne Joelson and Steve Keister, Taissia Basaria



CREON @ KI 2013

Elizabeth Bonaventura, Kylie Heidenheimer, Carole McClintock

November 2013 to May 2014
CREON @ Markeim

INSPIRED
Group Photography Show


February 4 to March 2, 2014
Opening Reception, Friday, Feb 7, 6:30 - 8:30 pm




Kryzsztof Zarebski - PHOTOGRAPHS 1972-2012
Mary Hrbacek - PEOPLED FOREST OF MY MIND
Peggy Cyphers, Debra Drexler, Amy C. Storey

Linda DiGusta, Timothy Hutchings, Mark Wiener, Beth Warshafsky, Jean Wilkinson

Eleanor Heartney & Chris Twomey - PARALLAX, TIME, MEDIA, AND SIGNIFICANCE
Kryzsztof Zarebski - PRIAP'S GARDEN
Veronica Flores - WE THE PEOPLE
Ruth Hardinger - NORMAL FAULTS
Peggy Cyphers - Occupy Wall Street, an Installation and Direct Democracy Environment
Anthony Becker - BUCKLED WINGS
Peggy Bates, Maria Cox, Veronica Flores, John Mendelsohn
VIDEO ALCHEMY - Elizabeth Riley & Jeanne Wilkinson
Grace Rim - LOVE IS ALL I NEED
Lynda Benglis / Maria Jose Duran; Peggy Cyphers / Sol LeWitt; Stefan Eins / Keith Haring;


Jane Fire / Sue de Beer; Ruth Hardinger / Nick Ghiz; David Moriarty / Tracy Grayson;


Lucio Pozzi / Linda Schrank; Bradley Rubenstein / Liz Bonaventura;


Gary Stephan / Suzanne Joelson; Lynn Umlauf / Troyan Tecau
Curated by Richard Pasquarelli

Josef Albers, Mary Albut, The Graffiteria , Robert Hart, Robert Indiana,

Gerald Laing, Larry Rivers, Chief Henry Speck, Reynaldo Torres
MEMORY LEAKS - curated by Monica Espinel
Angela Freiberger, Auguste Garufi, Robin Graubard, Geneviève Maquinay,

Lui Shtini, Julie Tolentino, Carlo Zanni and Krzysztof Zarebski
Bradley Rubenstein - THE ORDER OF ANGELS
Chris Twomey - ASTRAL FLUFF: Carnal Bodies in Celestial Motion
Dianne Bowen, Peggy Cyphers, Jane Fire, Mary Hrbacek


Nikki Johnson, Grace Rim, Chris Twomey
Lucio Pozzi - TWAIN MINIPAINTINGS
Michael Carter and Krzysztof Zarebski - SWEET AND LOW DOWN LIKE THE SUN
Angela Freiberger - SKIN SCAPES
Chris Twomey - TRIUMPH OF THE XX
Ellen Carey, John Coplans, Jane Fire, Nikki Johnson,

Amanda Means, Gwenn Thomas, Chris Twomey, Jeanne Wilkinson
Peggy Cyphers - ANIMAL SPIRITS