Tamara Wyndham - CALL FEMELLA - December 16, 2009

Call Femella is a ritual performance to call the Female Forces into my body. It begins with a simple banishing of negativity then proceeds with the calling of the names of Goddesses, Mothers, Stars, and Amazons, with sacred symbols. The symbols are drawn on my body with a felt marker.

Tamara Wyndham is a mixed media and performance artist engaged with feminist and political issues who has exhibited at Exit Art, The Henry Street Settlement, the Dollhaus, Cave Canem, and Taller LatinoAmericano among others.
Wyndham has been awarded artist residencies at the Henry Street Settlement, the Kate Millett Art Colony, the Vermont Studio Center, the Mariz Ceramic Workshop in the Czech Republic, Fundacion Valparaiso in Spain, and a fellowship from Earthwatch to work in Orce, Spain.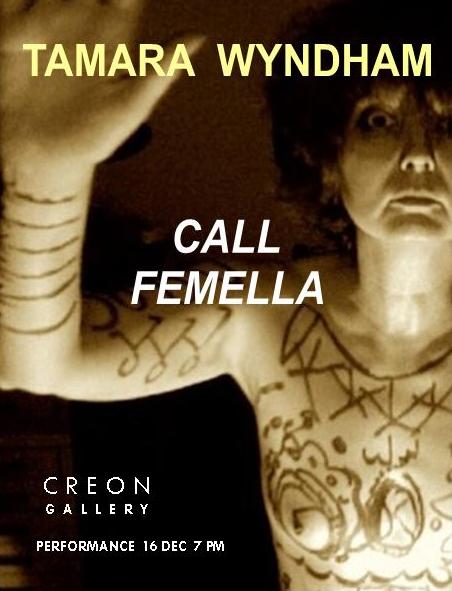 Please call or text 646-265-5508 for gallery hours.
Typical hours are Tuesday and Wednesday evenings but are subject to change.
Please e-mail norm@creongallery.com to receive
timely information on FUTURE EXHIBITIONS.
CREON, 238 East 24 Street, 1B, New York, NY 10010 646.265.5508